Town Hall with Rep. Buckley & Sen. Flowers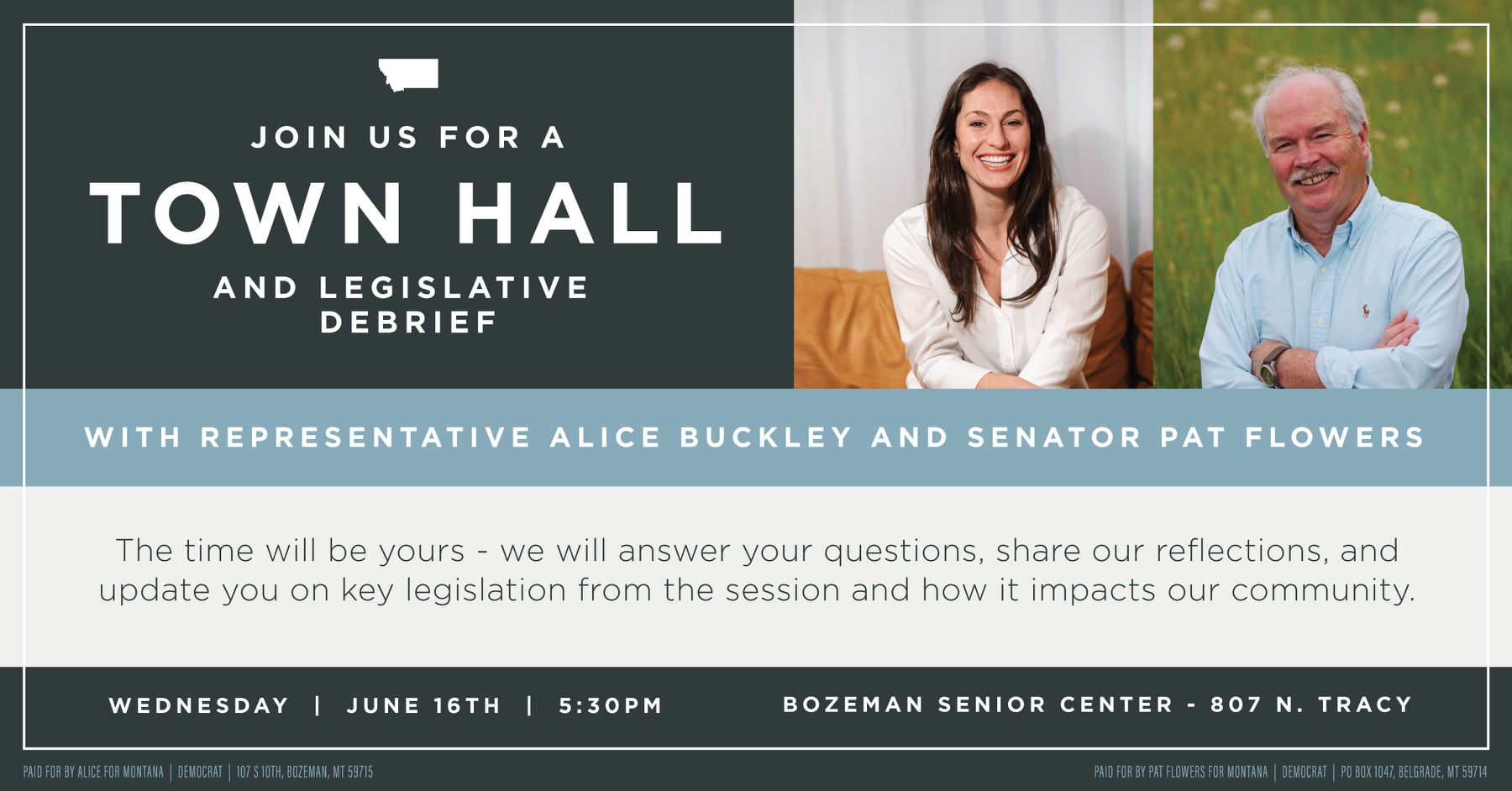 You are invited to join Rep. Alice Buckley and Sen. Pat Flowers for a town hall on Wednesday, June 16th at 5:30pm at the Bozeman Senior Center. The time will be yours – we will answer your questions, share our reflections, and update you on key legislation from the session and how it impacts our community. Senator Flowers serves Senate District 32 that begins at MSU and goes down to West Yellowstone. Representative Buckley serves House District 63 that encompasses the University District and Southwest Bozeman.
Have you been wondering, "how can you access new federal stimulus funding and business loans?" "What legislation did we work on?" "Why does the legislative session only meet every two years and last for just 90 days? "What bills were passed that will have the biggest impact on Gallatin County?" "After 16 years of a Democratic Governor in Montana, what was it like to have a newly elected Republican Governor?" This is the time for any and all of those questions.
No RSVP needed. We will be delighted to see you there. If you would prefer to submit questions beforehand, you can do so here.
Wednesday, June 16th
5:30pm until we answer your questions
Bozeman Senior Center
807 North Tracy (corner of Tracy and Tamarack)
We work directly for you. Even if you're not able to join us, please reach out at any point if we can help you navigate business licensure issues, unemployment benefits, Medicaid, stimulus funding, or if there is an issue you would like us to work on in the next legislative session.
Yours,
Senator Pat Flowers
406-580-0035
patflowersformontana@gmail.com
Representative Alice Buckley
406-404-0891