The Election 2020: Make Your Vote Count
Oct 27 @ 7:00 pm

-

8:30 pm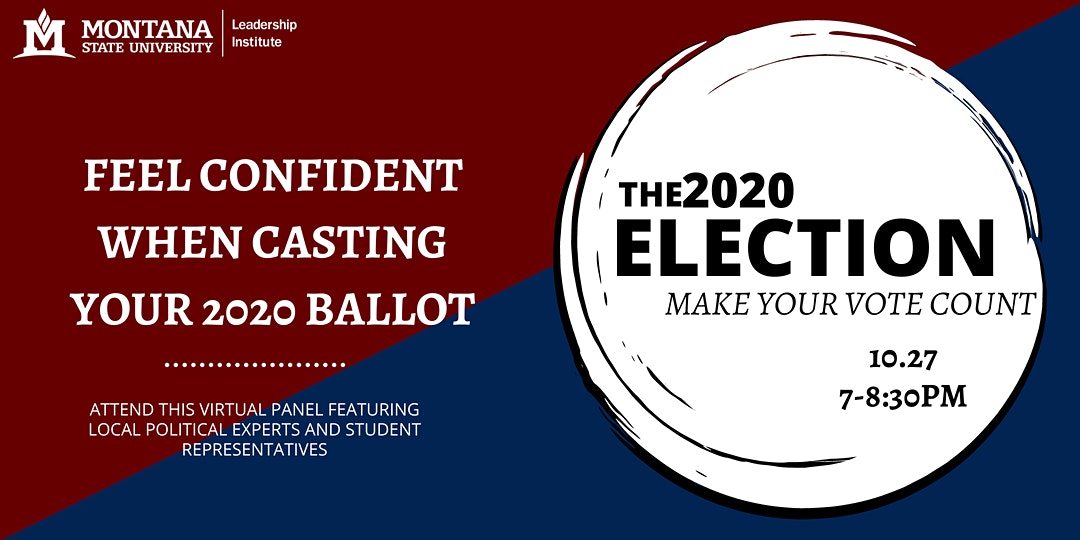 Join Montana State Senator Mike Phillips and Former Montana Representative Jon Knokey in a discussion on how to best be an informed voter and public servant. Students and community members from across the state will come together, virtually, under a common theme of understanding and civility in politics. Alongside this, gain strategies for getting involved in public service and learn how YOU can have a positive impact on your community, no matter the results of the election. 
***********************
The Montana State University Leadership Institute will host a forum aimed at empowering MSU students and community members to vote. "Make Your Vote Count" will take place from 7 to 8:30 p.m. on Tuesday, Oct. 27, virtually.
For many MSU students, this 2020 presidential election will be their first as voters. The interactive event will feature a panel with state Sen. Mike Phillips, former state Rep. Jon Knokey and student representatives. It will serve as an opportunity for both first-time and returning voters to ask questions, gain new perspectives, and plan for participating in the election in November.
Phillips has been a state legislator for the past 14 years. He was first elected to the Montana House of Representatives in 2006 and then to the state Senate in 2012, where he will serve through 2020. Phillips founded the Montana Legislative Climate Change Caucus and in 2009 was recruited by the White House to a coalition of state legislative leaders in working with the Obama administration and U.S. Senate to pass legislation on clean energy jobs and climate change.
Knokey was elected to the Montana House of Representatives in 2016 and served on the budget and appropriation committee. In 2020, he ran unsuccessfully for lieutenant governor as Attorney General Tim Fox's running mate. Knokey has taught a college course on the Constitution and wrote the book "Theodore Roosevelt and the Making of American Leadership."
The panel will be moderated by Eric Raile, an associate professor in the Department of Political Science in the College of Letters and Science at MSU. He teaches public policy and public administration and previously worked in the U.S. executive branch. Raile has contributed to news media reports about campaigns and elections for more than a decade.
"From the coronavirus pandemic to serious economic and environmental challenges, the need for effective public policies in the United States has rarely been greater," Raile said. "The selection of the right individual for the presidency is crucial for dealing with these challenges. The same is true for other national and state-level positions, as these individuals will work with or seek to counterbalance the president's policy objectives. These choices will have ramifications for decades."
For more information, call the MSU Leadership Institute at 406-994-7275 or visit montana.edu/leadership or facebook.com/MSULeadershipInstitute.
Alongside the MSU Leadership Institute, the forum is presented in partnership by the Office of the President, the Office of the Provost, the Associated Students of MSU, Murdoch's Ranch and Home Supply and the Office of Student Engagement.